HELB portal account registration and activation process
Registration and activation of the HELB student portal  Most often asked questions from candidates who have applied for or desire to apply for a Helb loan include how to register on the Helb portal, how to activate my Helb account, and how to recover / fix my Forgotten Password Helb Account. Stay with us from the top to the bottom of our content to get satisfied answers to your questions.
How can I set up my HELB account? Before continue with their loan applications, first-time applicants must create a HELB account. Both government-sponsored and self-sponsored (SSP) students can use this account to get government funding for the facilitation of their placement programs, regardless of the institution. With an account, interested HELB loan borrowers can apply for loans and track the status of their loans after they are disbursed. The registration process is always open to anyone who meets the portal's fundamental requirements.
Step by step guide on HELB portal registration
Did you realize that non-HELB recipients must also register for an access HELB loan clearing form? Creating a HELB account is a simple process that requires only a few personal details. Without the assistance of experts, you may effectively create a Higher Education Loans Board account in a matter of minutes. Examine our comprehensive guide for successful account registration with the Higher Education Loans Board.
Make sure you have internet access before going to your favorite browser, such as Opera, Firefox, Chrome, or any other in that situation. Visit the Higher Education Loans Board's website at www.helb.co.ke.
Visit the Higher Education Loans Board's website at www.helb.co.ke. Account registration and activation on the HELB Portal – portal.helb.co.ke Image courtesy of helb.co.ke UGC is the source. To proceed, select "Products" from the menu bar. Helb account creation Image courtesy of helb.co.ke UGC is the source. Scroll down to the "HELB Loans" section on the product category Helb portal registration Image courtesy of helb.co.ke
On the product category, scroll down to the "HELB Loans" section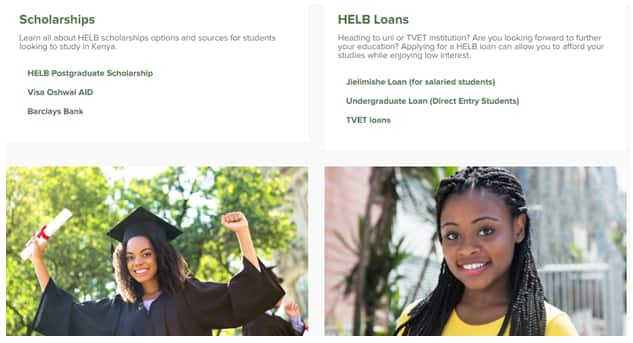 Select "Undergraduate Loan" if you are a direct entry student, "Jielimishe Loan" if you are a salaried student, or settle for TVET loans if you are planning to enroll in Technical and Vocational Education and Training. Clicking on any of the three will direct you to the student portal.
Scroll down and then click on "Apply Now" to access the registration page.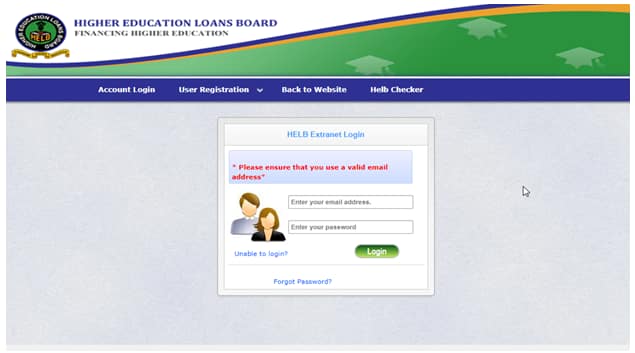 On the menu-list, hover on the drop-down icon next to "User Registration." Pick "Applicant Registration" if you are a student or "Employer Registration" if you are an employer.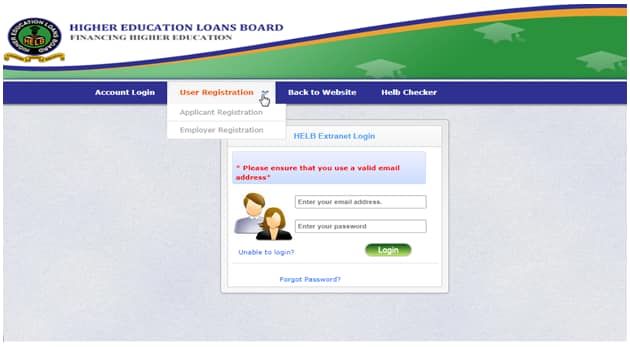 Clicking on "Applicant Registration" will take you to the page where you can create a new account.
Provide Enter your National ID card number and first name as it appears on your ID card, then click "Validate" to continue. Fill out your personal information in the new page, including an active phone number, a valid email address, and a password. Disclaimer: Always remember your email address and password since you will need them each time you seek online services through the Higher Education Loans Board portal. Confirm all entered information before clicking "Sign Up" to establish an account. The system will display a congratulations message and prompt you to access your email in order to complete the activation process.
HELB account activation
Account activation is perhaps the most important stage in your account registration, without which you will not qualify for an account. The method validates the email and phone number provided by the HELB portal applicant as authentic credentials. Before beginning the registration process, you must ensure that you have access to the email and phone numbers supplied.
Begin by accessing your mail inbox by phone or computer, then navigate to your mail inbox and find the message from the Higher Education Loans Board. To begin the account activation procedure, open the email and click on the link provided. The link page will require you to enter an auto-generated code that will be sent to your phone number. Find the code in your phone's inbox, enter it in the web area, and then click "PROCEED." You will have successfully registered a new HELB portal account, which will allow you to apply for various products and bursaries from the organization.
It is important to note that the Higher Education Loans Board is now collaborating with both local and international organizations to make the dream of all eligible members a reality; thus, diaspora students can also access HELB loans for international students to improve their learning experience. Users should be aware that they can only create one account with The Higher Education Loans Boards. Those who are unable to recollect their credentials should reset their HELB portal password or contact the HELB team for assistance.
Recover HELB password
Have you forgotten your password and are wondering how to reset your HELB portal password?
Follow these easy instructions. Go to the HELB site and select "Forgot Password." On the next page, enter your email address to obtain a new password and instructions on how to create one.
Higher Education Loans Board contacts
To contact HELB for further help,
Student Service Centre Mezzanine One (M1) Anniversary Towers Contact Centre/ Customer Experience Centre
Ground Floor,
Anniversary Towers T
elephone: 0711052000
You can find other regional contact details on the website.