NHIF is a statutory deduction that members who have registered with NHIF must pay on the due dates. A statutory deduction is a legal requirement in which an employer is compelled to deduct money on behalf of the government and remit the money deducted to the government. Statutory deductions that employers must deduct from employees include NHIF, NSSF, and KRA taxes. (PAYE, VAT, WHT)
The National Hospital Insurance Fund is a State Parastatal that was established in 1966 as a department under the Ministry of Health.
About NHIF
The primary mission of the NHIF is to provide medical insurance to all of its members and their stated dependents.
The National Health Insurance Fund (NHIF) is an insurance scheme that offers members with inpatient and outpatient medical insurance coverage at NHIF-accredited facilities.  Outpatient services are exclusively available at one's chosen hospital, however inpatient services are available at any authorized hospital.
The accredited hospitals are categorized into 3 categories:
Category A – Government Hospitals
Category B – Faith-Based and Medium Cost Private Facilities
Category C – High-Cost Private Facilities
NHIF cover is provided under a two-tier category;
National Scheme (Supa Cover)
Managed Schemes
The National Supa Cover program protects all participants who are self-employed or work for a company that is not part of a controlled program. National Supa Cover members get access to services at Category A and select Category B hospitals.
The managed scheme covers those whose employers have negotiated a better package than the National Scheme. It primarily applies to public officials, the National Police and Prison Services, government parastatals, county governments, and former members of legislatures.
It is not a given that all members of the aforementioned groups have access to the same services. It differs by job category in several circumstances. Managed Scheme members have access to services at all Category A, B, and C hospitals.
More information about NHIF  can be accessed from their main website here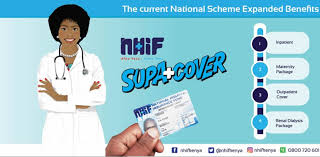 NHIF Registration
Individuals must first register with NHIF in order to use NHIF coverage. All Kenyans above the age of 18 are eligible to register.
A person can join the NHIF as a Self-Employed or an Employed Member.
Self-Employed Registration.
One can register with NHIF online from NHIF Website or by Visiting the NHIF branch office.
Online Registration can be done from the following website URL https://nhif.kenyaweb.com/~nhiforc/healthinsurance/registeronline/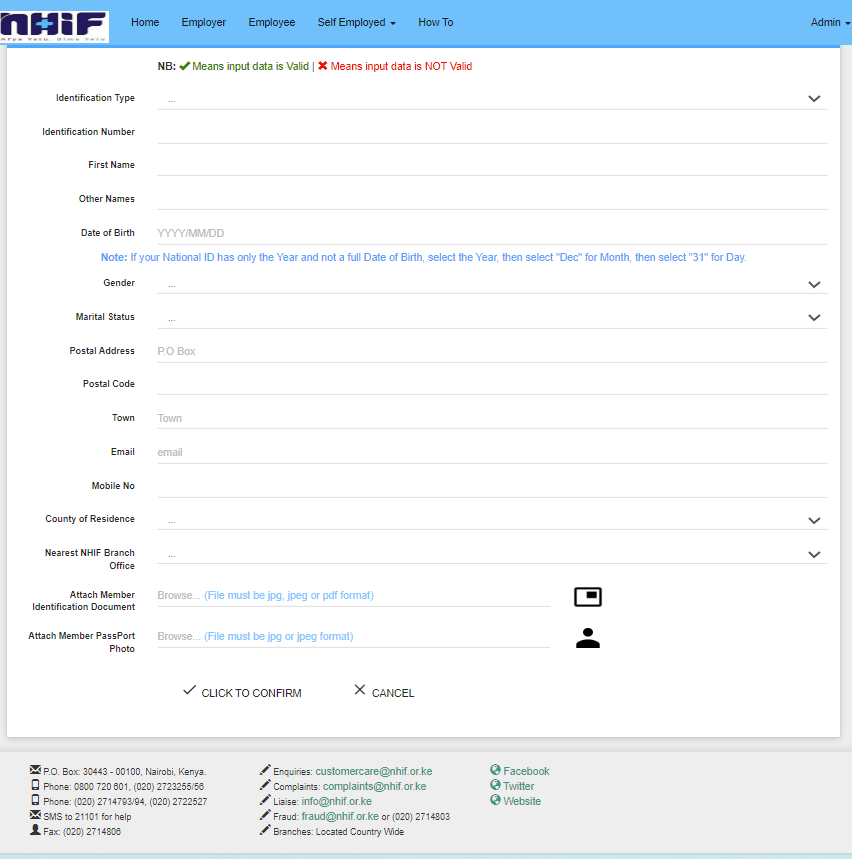 You will be required to upload a clear photo of the National Identity Card and a Clear passport photo. After submitting the form, the system will generate your NHIF registration number. 
To register as a Self-employed from NHIF offices, the following documents are required:
A copy of ID
A coloured passport-sized photo
A copy of the spouse's ID if applying for a family cover
Sworn affidavit or marriage certificate if adding a spouse
Copy of birth certificates (or birth notification for children below 6 months) if one is adding children
Coloured passport-sized photo of spouse and children
Ksh 1,500 as payment for the first registration which will cover one for three months. Afterwards, one is required to pay KES 500 monthly to avoid penalties.
When looking for work, most people register as self-employed to obtain an NHIF card because most employers demand one.
After registering, you must pay Ksh 500 every month by the 9th of each month.
Registration as an Employed Member
If you are working and are not an NHIF member, NHIF will require a letter from your employer introducing you as their employee in order for you to be registered. When you register as an employed member, you will not be required to pay the contributions at the time of registration; instead, your employer will deduct and remit the contributions to NHIF on a monthly basis.
NHIF Employer Registration
Any organization that employs people must register with the NHIF. When a firm is registered, it must register with KRA for taxes, NHIF for employee health insurance, and NSSF for employee retirement benefits.
To register for NHIF as an employer, the following documents are required:
Authorization letter on Employer LetterHead
Dully filled, signed and stamped Employer Registration Form.
Certificate of Registration
CR12 for Companies or CR13 for Sole-Proprietorship and Partnerships.
KRA PIN
For Companies, Registration CR documents or Articles, and Memorandum of Association.
Following registration, an employer is assigned an Employer Code number, which will be used to remit all NHIF deductions.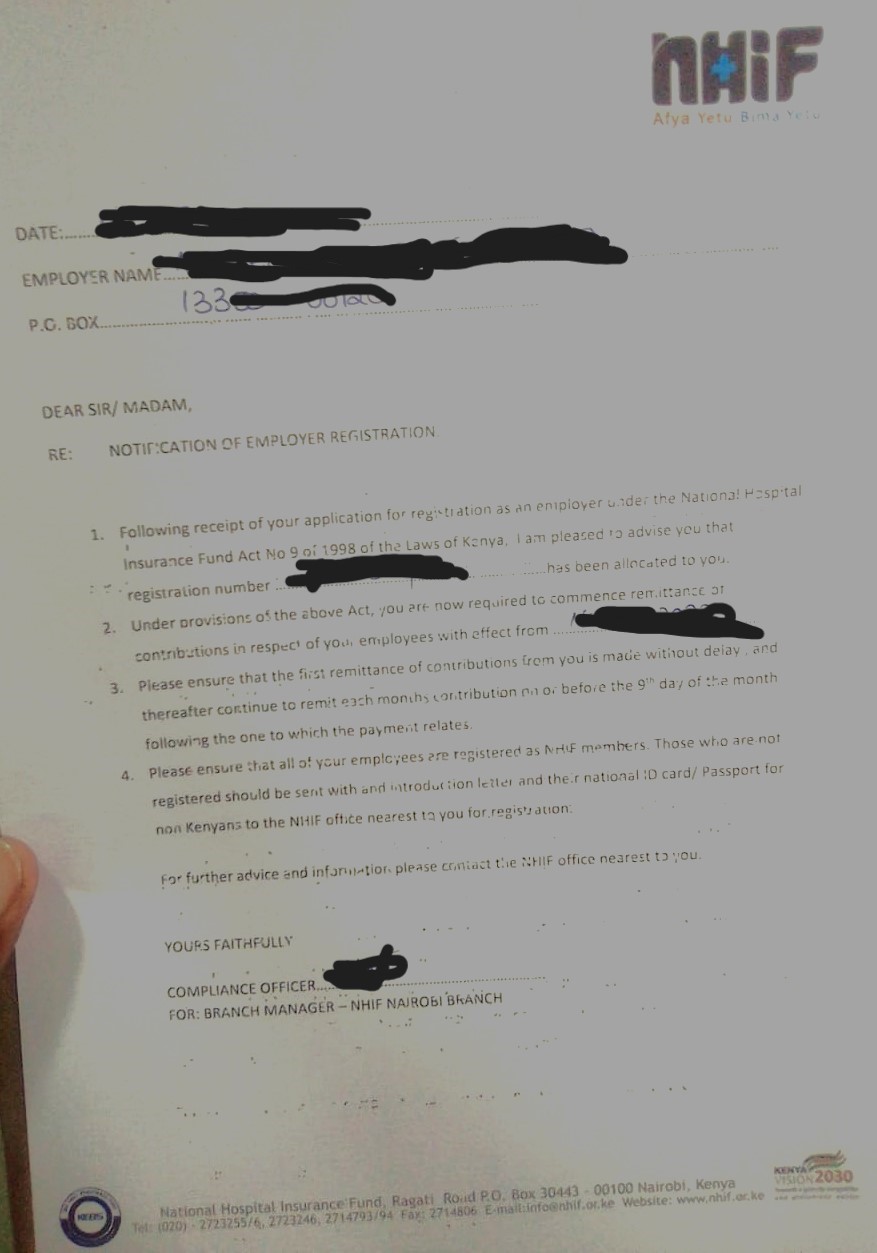 If a company has not yet formally employed staff, it should register with NHIF and have its directors registered as employees to avoid penalties later when they begin employment.
Get Help with NHIF Employer Registration
One or more fields have an error. Please check and try again.
Please fill out this field.
Please fill out this field.
Please fill out this field.
Please fill out this field.
Please fill out this field.
Please fill out this field.
Please fill out this field.